Rescue
The Irish Setter Rescue is a volunteer group of Irish Setter Club of America and Irish Setter Club of Seattle members who diligently work to find new homes for displaced Irish Setters. Additionally, they strive to educate the public about the breed. Rescue is all about making sure that we as Irish Setter fanciers do everything possible to take responsibility for the well being of all Irish Setters.
Where do rescue dogs come from?
Every year many Irish Setters, across the country, find themselves in need of new homes for a variety of reasons. Some of the circumstances are understandable and completely unavoidable, such as in the death of the owner. Some dogs come to us lost or abandoned.  Others because of the arrival of a new baby, a divorce, a new spouse, or a move over seas. These life changes usually are not a reflection on the dog.  While some dogs are relinquished by their former owners, Rescue also receives dogs of unknown origin from shelters. Whatever the reason, Irish Setter Rescue, works to turn the situation around to the best interest of the dog.
Do rescue dogs make good pets?
Good breeders take responsibility for the dogs they produce and take back dogs that are given up by owners for whatever reason. These breeders assess the dogs and place them in suitable new homes. But there are breeders who fail to act with integrity, selling puppies and severing contact with buyers, allowing Rescue to make up for their lack of responsibility when the dogs are no longer wanted.  Good bloodlines run through many dogs placed in the rescue program. Many  handsome dogs are frequently hidden under matted, overgrown coats.  With grooming and attention each one makes an astounding transformation in spirit and appearance. They seem to know they are in good hands. 
It is commonly believed that all rescue dogs have been abused or neglected. For the most part this is not true.  As for those that actually have been abused or neglected, many new owners tell us that these dogs seem to understand their good fortune and respond by demonstrating an especially attentive and loving attitude.
How does Irish Setter Rescue work?
Rescue dogs are available across the country. The Rescue effort is set up with volunteers and foster homes in each state, each case coordinated through Rescue's four Regional Rescue Coordinators.  Dogs may be housed in a temporary foster home, remain with its original owner or live in a shelter while Rescue works to find a new home for the dog.  All dogs are screened for medical and temperament problems in order to insure that only sound, healthy dogs are placed.  Irish Setter Rescue will neither accept nor place any dog who is temperamentally unsafe or who has shown aggression towards people in the past.
An appropriate home for each dog is sought locally or if needed, outside the area.  If a rescue dog is not available in your area, transportation for a dog in another area is often possible.
Irish Setter Rescue takes  the time to specially match people to each dog, usually resulting in a lifelong placement.
Please contact the following people if you want more information:
Jill Lasersohn - seaglass.jl@gmail.com - phone: 206-617-4701
Faye Weiler: fmweiler@yahoo.com - phone: 509-926-9144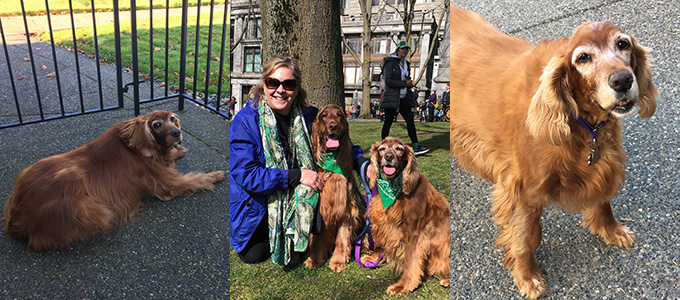 Why I Adopt Senior Pets By Jill Lasersohn
Board Member, Irish Setter Club of Seattle
Why do I adopt senior pets? What draws me to them? The reality is the likelihood of adoption is much higher for a younger pet. The senior pet's adoption need is definitely greater. They need a soft place to land.
I wondered how much I could change the trajectory of a senior pet's life. Could I positively impact their life? Could I make them happy? Would the family that surrendered their dog be pleased with me?
The email said a very overweight, senior Irish setter named Princess desperately needed a home due to urgent circumstances. This girl was thought to be in frail condition. Due to her weight, Princess was unable to navigate more than a few steps so none of her extended family could take her. She was overweight and on thyroid meds—something we had in common!
With the assistance of the Irish Setter Club of Seattle, I adopted 12.5-year-old Princess from SPOT Rescue in Burlington, Washington, in October 2017. Her story broke my heart. Her elderly owners were going through major life events, which meant they could no longer care for this 90-lb Irish field setter who should weigh 60 lbs.
I was informed Princess may have only months to live. Even still, I thought I could give her a comfortable life. She and my 7-year-old Irish setter Mallory (Clarendon's Fall Madly in Love with Mallory) would enjoy each other's company. I also have an orange tabby named Shandy that I adopted in 2016 when she was 12.
I honestly felt I could make a difference in Princess' life no matter how much time she had left. The truth is none of us knows how much time we or our pets have left. Because of her age, I am truly grateful for each day. I realize each day is a gift. I find myself more present because of Princess.
It was painful to watch Princess toddle around the house at first. She was easily winded. She had much discomfort lying down and getting up, as well as difficulty doing her business. I knew she was in pain. I could relate. I have psoriatic arthritis, which is quite disabling and the reason I can no longer work. Some days I cannot walk much less get out of bed due to pain.
We quickly realized that Princess was used to eating family food in addition to her canine diet. She was an accomplished food thief—a fact not listed on her resume. She has cleverly claimed two roast chickens, a brownie and other unmentionables.
I happened to catch Princess during the second roast chicken heist when I caught her climbing my kitchen drawer pulls like a ladder! No wonder she could reach food I thought I had put out of harm's way. When food was involved, Princess was surprisingly swift and nimble—something else we had in common. She was not happy with her new restrictive diet.
She was happy with the short walks we began taking around the neighborhood. Despite her weight, I was surprised by her stamina and her love of the outdoors. She was definitely a hunting dog. She also began acting like a guard dog helping Mallory to protect her turf. Princess was claiming her new home.
The weight slowly started to drop off Princess. After two years, she has lost approximately 30lbs and has maintained her new weight of 62 lbs.
Princess and Mallory have become great friends and Mallory mothers her pal Princess in the sweetest ways. Mallory has shown no jealousy. They both follow me everywhere. Even during a middle-of-the night visit (Shhh) to the fridge, Princess is at my side. She's my new food coach.
Now, on our walks, Princess and Mallory pull me up the steep hill in my neighborhood like a ski boat tows its skiers. Princess can easily walk 3-4 miles on occasion. With my disability, there are days I cannot walk and I tend to be very hard on myself when I am resting instead of doing.
Seeing Princess flourish has been a source of great pride for me. Many have witnessed her amazing transformation. Princess is thriving because many selfless peopIe stepped up to help a dog in need. Watching Princess evolve has helped me realize it's okay to show patience and compassion for myself—the same patience and compassion I show Princess.
Princess has learned an array of tricks and initiates play. She is sassy, bossy and full of mischief.  She can now easily navigate stairs to the lower level, which means we have to barricade the entrance to the stairwell. No matter—Princess is quite crafty and has successfully broken down the barrier to get to that orange kitty downstairs.
As a board member of the Irish Setter Club of Seattle, I am thankful for their support of this adoption. Thank you Nina Spitler of SPOT Rescue in Burlington, Washington, and to the Herrmann family for believing in me and letting me adopt Princess. I am so grateful. She is loved. She is happy. Our home is joyful. We love her so much!
Our next big outing is to participate in Seattle's St Patrick's Day Parade on Saturday, March 14, 2020. Princess, Mallory and I will be in the parade with fellow Irish Setter Club of Seattle members and their Irish setters. This will be the third parade for the three of us together.
I have been keeping the Herrmann family and Nina Spitler of SPOT Rescue updated on Princess' journey with texts and photos. Princess' breeder now knows Princess lives with me in Tacoma, Washington.
Princess Rojita will be celebrating her 15th birthday on St Patrick's Day! We are so grateful. We know we are blessed. Each day is a gift.
And, Princess, if you are reading this, thank you for letting us love and care for you. Thank you for your boisterous bark. Thank you for trusting me and for being such a good girl. You're my Little Red Bear; my Tugboat; my Little Bulldozer. My life has been forever changed by you in ways you will never know. You are so loved. Stop eating poop.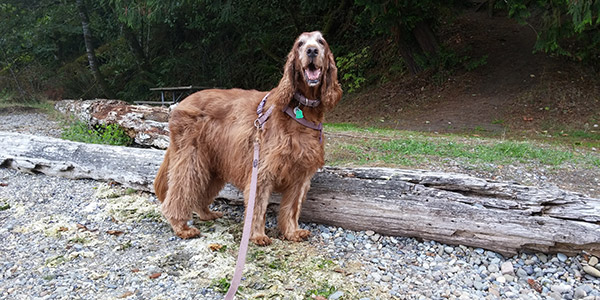 This is the story of Annie told by Jennifer:
"I came to the club 11 years ago with a request to rescue a female Irish Setter.  You helped me find a young girl.  Her name was Sammy and she was rescued from a horribly abusive situation in December from a home in Spokane where a neighbor reported that a dog was tied up outside in frigid temperatures and starving.  It took a month to caravan her across the state and another month to nurse Sammy back to health and then she was delivered to our home in Everett. So I renamed her Annie as in Orphan Annie or Raggedy Annie because it fit her. 
I wanted to get in touch because that rescue dog that I was entrusted to love and provide a home to is still alive after all these years.  She turns 12 in October and she is just as beautiful and engaging as when she was 15 months old.  She is still very healthy and very active going for hikes and playing.  She has grayed through the face and is a bit stiff in the joints every now and then and she has gotten cloudy eyes from staring up into the sun to watch the birds. But she has provided me with years of love and still is enjoying life.
I just wanted to touch base with you.  She is the only Irish at the off leash park we play at and is very admired by the people we meet.  I know 12 is a long time for an Irish Setter and I just wanted to let you know that the Irish Setter that was rescued by the club so long ago has been treasured and treated as the true "pillow princess" she is.  I thank you guys for allowing me to have her and I look forward to the years I still may have with her."