Rescue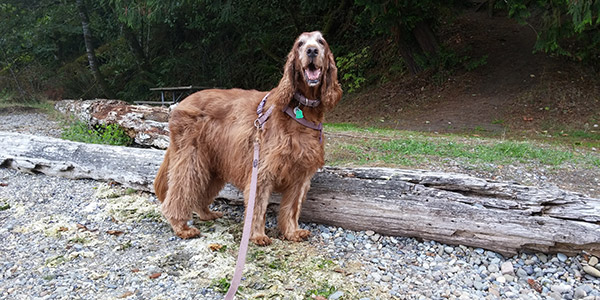 This is the story of Annie told by Jennifer:
"I came to the club 11 years ago with a request to rescue a female Irish Setter.  You helped me find a young girl.  Her name was Sammy and she was rescued from a horribly abusive situation in December from a home in Spokane where a neighbor reported that a dog was tied up outside in frigid temperatures and starving.  It took a month to caravan her across the state and another month to nurse Sammy back to health and then she was delivered to our home in Everett. So I renamed her Annie as in Orphan Annie or Raggedy Annie because it fit her. 
I wanted to get in touch because that rescue dog that I was entrusted to love and provide a home to is still alive after all these years.  She turns 12 in October and she is just as beautiful and engaging as when she was 15 months old.  She is still very healthy and very active going for hikes and playing.  She has grayed through the face and is a bit stiff in the joints every now and then and she has gotten cloudy eyes from staring up into the sun to watch the birds. But she has provided me with years of love and still is enjoying life.
I just wanted to touch base with you.  She is the only Irish at the off leash park we play at and is very admired by the people we meet.  I know 12 is a long time for an Irish Setter and I just wanted to let you know that the Irish Setter that was rescued by the club so long ago has been treasured and treated as the true "pillow princess" she is.  I thank you guys for allowing me to have her and I look forward to the years I still may have with her."
The Irish Setter Rescue is a volunteer group of Irish Setter Club of America and Irish Setter Club of Seattle members who diligently work to find new homes for displaced Irish Setters. Additionally, they strive to educate the public about the breed. Rescue is all about making sure that we as Irish Setter fanciers do everything possible to take responsibility for the well being of all Irish Setters.
Where do rescue dogs come from?
Every year many Irish Setters, across the country, find themselves in need of new homes for a variety of reasons. Some of the circumstances are understandable and completely unavoidable, such as in the death of the owner. Some dogs come to us lost or abandoned.  Others because of the arrival of a new baby, a divorce, a new spouse, or a move over seas. These life changes usually are not a reflection on the dog.  While some dogs are relinquished by their former owners, Rescue also receives dogs of unknown origin from shelters. Whatever the reason, Irish Setter Rescue, works to turn the situation around to the best interest of the dog.
Do rescue dogs make good pets?
Good breeders take responsibility for the dogs they produce and take back dogs that are given up by owners for whatever reason. These breeders assess the dogs and place them in suitable new homes. But there are breeders who fail to act with integrity, selling puppies and severing contact with buyers, allowing Rescue to make up for their lack of responsibility when the dogs are no longer wanted.  Good bloodlines run through many dogs placed in the rescue program. Many  handsome dogs are frequently hidden under matted, overgrown coats.  With grooming and attention each one makes an astounding transformation in spirit and appearance. They seem to know they are in good hands. 
It is commonly believed that all rescue dogs have been abused or neglected. For the most part this is not true.  As for those that actually have been abused or neglected, many new owners tell us that these dogs seem to understand their good fortune and respond by demonstrating an especially attentive and loving attitude.
How does Irish Setter Rescue work?
Rescue dogs are available across the country. The Rescue effort is set up with volunteers and foster homes in each state, each case coordinated through Rescue's four Regional Rescue Coordinators.  Dogs may be housed in a temporary foster home, remain with its original owner or live in a shelter while Rescue works to find a new home for the dog.  All dogs are screened for medical and temperament problems in order to insure that only sound, healthy dogs are placed.  Irish Setter Rescue will neither accept nor place any dog who is temperamentally unsafe or who has shown aggression towards people in the past.
An appropriate home for each dog is sought locally or if needed, outside the area.  If a rescue dog is not available in your area, transportation for a dog in another area is often possible.
Irish Setter Rescue takes  the time to specially match people to each dog, usually resulting in a lifelong placement.
Please contact the following people if you want more information:
Peggy Tucker: tradewindirish@msn.com
Faye Weiler: fmweiler@yahoo.com phone: 509-926-9144