Field Events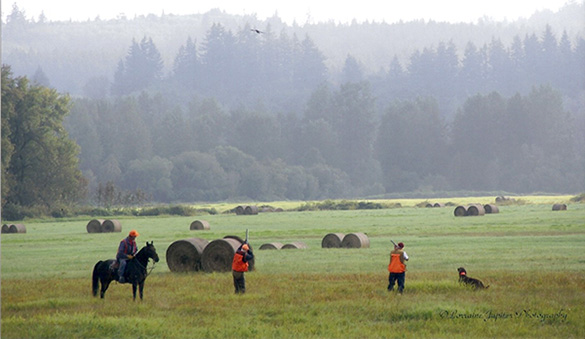 Field events were developed to showcase the hunting abilities of dogs – their bird finding, pointing and retrieving skills, and their trainability.  Irish setters compete in two different types of field events for pointing breeds – Field Trials and Hunt Tests.
Field trials are competitive events in which dogs compete against each other in the field, with the winners earning points towards Field Trial Championships.  Hunt tests are non-competitive events in which the dog's natural hunting ability and training are evaluated according to a written standard for performance.  Each dogs that meets this standard receives a pass towards Hunt Test titles.
Click here to learn more about Field events:  AKC Field Events
For Hunt Test rules:  AKC Hunt Test Rules
For Field Trial rules:  AKC Field Trials Rules
2023 Hunt tests:
Saturday & Sunday, July 15-16 , Oakville, WA
For info contact Marsha Henkel e-mail: hlirish@aol.com
2018 Hunt tests
Dear ISCS members,
It was a glorious spring weekend for the 2018 ISCS Hunt Tests. Beautiful weather, great flying birds, and many passes made for a successful event.
Thanks to the very hardworking committee members who kept the event running smoothly. Sue Orlicky handled the myriad of secretary details to manage the event and keep everyone organized. Andy Middleton picked up the birds and kept them fed and cool so we would have healthy, good flying birds. Marsha Henkel and Keely Ghirardelli planned and plotted out the course, filled and set up dunk tanks and gunners tent to keep all humans and canines comfortable. Doing double duty, Keely also brought her keen eye and clear mind judging the event. Sonja Kinney helped score and fill out ribbons.
Up at the crack of dawn, LuAnne Middleton got the coffee brewing and brought her delicious goodies for a fantastic feast to start the day. Chris Greene brought sliders and wraps for lunch for easy pickin'.
Great appreciation to the following ISCS members who volunteered, showing support and much needed help in various areas: Bev Wallace was there from start to finish, lending her helping hand everywhere. Michael McGarry helped with the critical job of planting birds on both days. Lorelei Windhorn ran scores and marshaled on Saturday to keep the flow. On Sunday, Brian Rasmussen ran scores, helped marshal, and helped tear down and clean up - thank you one and all!
Congratulations to the club members who had Junior Hunter passes with their Irish: Andy and LuAnne Middleton's "Tia" got 2 passes, Michael McGarry's "Russell" got 2 passes, Sue O's "Toni" got 1 pass, and Leta Graham's "Rex" got 1 pass. A big "wahoo" out to Sue O's Danny who got 2 Senior Hunter passes.
Always fun to see are the different pointing breeds competing and representing at the event, which included Spinone Italiano, Pointer, Brittany, German Shorthaired Pointer, and German Wirehaired Pointer; all showing their style and ability. We had a good number of passes in Master Hunter, Senior Hunter and Junior Hunter - a great way to start the season!
Thanks to all! Happy Hunting!!
Chris and Andy
ISCS Hunt Test co-chairs
2017 Hunt tests
2015 Hunt tests
The Irish Setter Club of Seattle held its annual pair of Hunt Tests June 27 and 28, 2015 at Koopman Farm in Oakville, WA.
The event was a great success and pass or fail, everyone attending, including the dogs, had a great time. On Saturday we saw temperatures in the mid 90's and Sunday greeted us with thunder, lightening and rain. Our Hunt Test committee, volunteers and very efficient judges kept the event running safely and smoothly. Congratulations to the following club members and their dogs for their passes:
Saturday:
Junior:
Starbright Just A Lil Irish Bryteagle Irish Setter owner/ handler Susan Orlicky
Tuxedo's August Moon Pointer owner/handler Keely Ghirardelli
Senior:
Gold GCH Windntide Mr. Sandman RE JH CGC VCA Irish Setter owner Carol, Patrick, & Michael McGarry / handler Michael McGarry
Master:
GCH Mi Jean's Reason To Believe SH AX AXJ OF VCX Irish Setter owner/handler Andy Middleton.
This pass finished Oscar's Master Hunter title!
Sunday:
Junior:
Ch Dorigan Bound To Be Loved, Irish Setter owner Ginger Kenney / handler Dean Kinney Finished Junior Hunter title
Kaerdon's Oh Here Comes Trouble, Irish Setter owner S&J Kinney & Leta Graham & Susan Orlicky / handler Susan Orlicky
Tuxedo's Anisette, Pointer owner/handler Marsha Henkel
Tuxedo's August Moon, Pointer owner/handler Keely Ghirardelli
Master:
GCH Mi Jean's Reason To Believe SH AX AXJ OF VCX Irish Setter owner/handler Andy Middleton
Plan to attend next year.